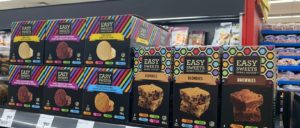 Where to Find our Products
Our products are available for purchase at the following Toronto retailers*:
Concord Food Centre (Grecco's Fresh Markets): 1438 Centre St, Thornhill
Bruno's Fine Foods Avenue Road: 2055 Avenue Rd, North York
Bruno's Fine Foods Etobicoke: 4242 Dundas W. #9, Toronto
Dave Young Foods:  494 Eglinton Ave W, Toronto
Fresh Avenue: 2294 Bloor St W, Toronto
McEwans TD Center:  79 The PATH – Toronto-Dominion Bank Tower
Nortown Bayview:  303 York Mills Rd, North York
You can also grab a Kosher coffee and one (or more) of our delicious Kosher, allergy friendly treats at:
Sips Coffee House:  441 Clark Ave W Unit 13A, Thornhill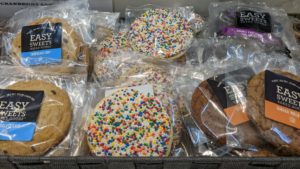 *Custom cakes and cupcakes are only available by contacting the bakery directly.  Curbside pick up or delivery available.
If you don't see your local store on our list and would like to have our products available to you there, please feel free to contact us and we will be happy to work with retailers to bring you our delicious packaged goodies.