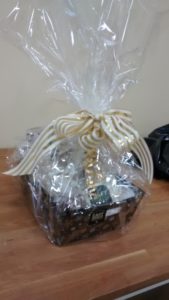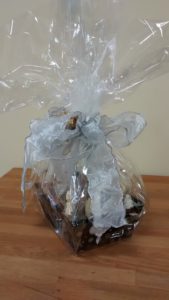 Gift giving made easy with a beautiful selection of gift baskets for everyone on your list.  With different cookie flavors, and blondie and brownie squares to choose from, all will enjoy the delicious treats and sweets made fresh with wholesome ingredients – all peanut, tree-nut, sesame and dairy free.  From teachers, to colleagues, and family alike, what a great way to give the gift of smiles and chocolate mustaches.
Baskets can be ordered by contacting us: info@easysweets.ca or feel free to call in and choose your cookie flavors and treats (416) 783-7200.
Prices vary depending on content.
Cookie Flavors:  Chocolate chip, double chocolate, ginger, oatmeal, oatmeal chip, oatmeal raisin, luscious lemon.