It is that time of year once again when the bakery is buzzing with the sweetness of the Jewish holiday of Rosh Hashana, (the New Year).  Get your orders in early to make sure that you do not miss out on this delicious time of year!
Please note that all orders must be placed by:
FRIDAY, SEPTEMBER 15th, 2017.
Please note the new addition to our menu:
Beehive Honey Cake……………….$20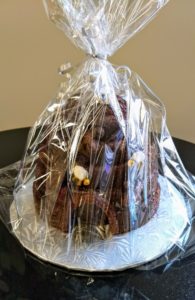 ROSH HASHANA HOURS:
We will be open for Rosh Hashana order pick up on both Tuesday, September 19th and Wednesday, September 20th, regular hours.
Thursday, September 21st – Friday, September 22nd: CLOSED
L' Shana Tova – To a Happy and Healthy New Year!